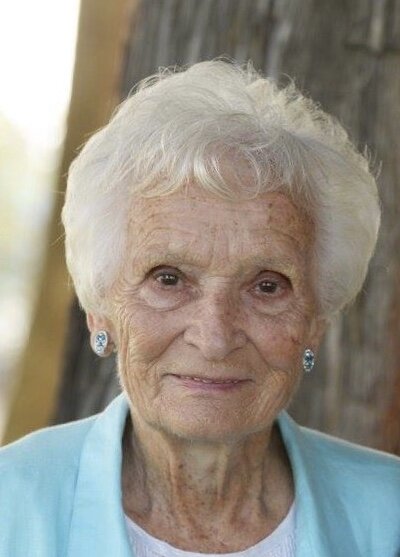 Obituary of Ruth Eileen Taylor (née Lefley)
August 8, 1927 - January 12, 2023
Ruth Eileen Taylor (née Lefley) (aka "Nanny") was born on August 8, 1927, in Drumheller, Alberta, to Cyrus John Lefley and Mary Gaye Hackler. On January 12, 2023, at the age of 95 and after a short illness, passed away peacefully at the Queensway Carleton Hospital, with her loving family by her side.
Ruth was the fourth of 10 children raised on a rural, two room farmhouse near Drumheller. She recounted fond memories of growing up in this setting, including her joys of riding her horses to school, her mother's cooking, playing sports, and caring for her younger siblings.
At a young age, Ruth gave her life to Jesus and dedicated herself to honoring Him for the rest of her life.
At the age of 15, she left the homestead to live and work as a housekeeper/caregiver while finishing highschool in Lethbridge, Alberta, before relocating to Winnipeg in 1945 to enroll in nursing school with her sister, Viola.
In 1948 after graduating from Nursing and while still in Winnipeg, a beautiful, feisty Ruth met a handsome, nice young man, William (Bill) Douglas Taylor. It was during the infamous Winnipeg flood of 1950 that they were wed, with only three others in attendance. She recounted cheekily having been married in her nursing graduation suit and rainboots, with only one photograph taken, which happened to include only the torsos of the newlywed couple.
During their early years, Ruth and Bill were truly open to the ultimate adventure of life. They moved to British Columbia for a time, and it was there that they welcomed the birth of their first child, William Jr. Bill then secured employment in Dawson City, Yukon with the former Yukon Consolidated Gold Company (YCGC). During their time living in Dawson City, the Taylor family grew further with the birth of Rachael, Warren, Weldon and Ruth.
While living in the Great White North, Ruth dedicated herself to raising her beautiful children, opening her home to her siblings, friends and their children, and providing warm meals, clean clothes, and a loving environment for the local community.
Their time in Dawson City was rife with adventure. As the trailblazers and adventure seekers they were, and being mandated by the Yukon government to take a yearly three month leave to seek sunshine and rejuvenation, Ruth and Bill made the brave choice to navigate from Circle City, Alaska to Mexico City, Mexico along the Pan American Highway, charting over 5000 miles without the aid of GPS or even local maps, all in the family station wagon. Ruth and Bill were also true pioneers in their community, establishing a wonderful network that included lifelong friendships and treasured memories. Particularly important to them were the wonderful friends who shared their belief in the saving power of Jesus Christ. Their church family included lifelong relationships and treasured memories that have transcended multi-generations.
In 1963, after completing Bill's work in the Yukon, Bill and Ruth moved the family to Calgary, Alberta, where they continued to focus on raising their growing children and spending time with extended family. In Calgary, on Ruth and Bill's fifteenth wedding anniversary, they welcomed the birth of their final child, Rebecca.
During her time living in Calgary, Ruth nurtured her lifelong love of baseball and hockey, and even played on an all-women's city baseball team that won the city championship.
In 1970, Ruth and Bill moved the family to Ontario and in 1971 to their final home on Barnes Crescent, in Nepean, Ontario. The family flourished in this neighborhood, spending quality time on Sunday drives, and picnics at the local parks. Ruth also assisted her children through finishing their schooling, spending many late night hours "helping" craft school projects and writing reports. It is safe to say that she should have honorary degrees in accounting, art, medicine, engineering, and more.
On November 9, 1980, Ruth's cherished husband and the love of her life, Bill, passed away in his 57th year. While heartbroken, Ruth then devoted her time fully to caring for and being a positive, strong influence to her children and all those around her. In the years that followed, her family began to grow as more grandchildren came into the picture.
Even though she couldn't swim a stroke, in 1981, Ruth decided to have a large inground pool built in her backyard, having the foresight that it would be an entertaining centerpiece for her children, grandchildren, countless friends and neighbors, which it continued to be for over 40 years.
There are fond memories for many friends and family of attending parties, gatherings, and just "stopping by" her home. Regardless of how busy Ruth was caring for her own children or grandchildren, and no matter where she called home, countless extended family members, friends, acquaintances and even strangers were welcomed with open arms into the Taylor household, and immediately treated as family. In Ruth's home, bellies were full, and there was a place to sleep. Everyone was met with love, warmth, a smile, and maybe the odd prank - like a short sheeted bed or if you had chosen an unfortunate seat on her back patio, perhaps a bucket of water poured on your head from a second story window.
Ruth had many talents, such as excelling at sports, knitting, completing others' school assignments, and beating anyone who dared play against her in a game of Sequence. Notably, one of Ruth's special talents was baking and decorating elaborate cakes and desserts. She created stunning wedding cakes for family and friends over the years, and countless birthday cake masterpieces that created lasting memories for not just the birthday child, but for all party attendees. She was also an avid sports fan, watching her beloved Senators, keeping score for her favorite baseball team, the Toronto Blue Jays.
Ruth was a devoted Christian throughout her life, and was a committed member of the church. She had a passion for children's ministries and was involved in teaching Sunday school, leading hobby classes, and helping with youth groups in church.. Ruth spent many years organizing Senior (The Keenagers) outings and activities, summer Day camps and was involved with Missionary and bible study groups. She also was involved with the Christian Women's Club - Ottawa West Chapter which she led for a number of years. She developed many lasting friendships with those she met while attending Rideauview Bible Chapel, Bridlewood Bible Chapel and Cedarview Alliance Church. In addition, she was involved with Child Evangelism Fellowship for over 50 years, participating on the local leadership committees as well as leading countless backyard and party clubs.
Throughout her life and even until the very end, Ruth possessed the gift of making everyone she met feel deeply loved and wholly cherished. She devoted her time daily to calling her family and friends, never failing to tell them how much she loved them. At Christmas in 2019, she was gifted an iPad, which began three years of treasured FaceTime calls from Ruth to her surviving siblings, children, grandchildren and great grandchildren, as well as many other fortunate family and friends.
During her final years, numerous family members selflessly provided care to Ruth to help optimize her mobility. Her extended family acknowledges the compassionate care provided by her daughter Ruth and grandsons Jacob and Joshua, which allowed her to fulfill her lifelong wish to continue to live at her favorite place - her home. We deeply appreciate your love and devotion to our beloved Nanny.
Ruth devoted her life to the service of others, following the teachings of her Lord and Savior, Jesus Christ, demonstrating her faith through actions each and every day, and until the very end. When you spent time in Ruth's presence, you felt like you were the most important person in the room, and afterward, that you had a champion in your corner, regardless of how long it had been since she'd seen you. She loved deeply, laughed heartily, nurtured selflessly, and prayed earnestly. The lives of those she crossed paths with were forever enriched because of her character.
Ruth Eileen Taylor has joined both her husband and her Lord and Savior for eternity in heaven. We, her family, jointly acknowledge our blessing of Ruth as the matriarch of our family, and will miss her presence in our lives tremendously. Mom, Nanny, we miss you so much but we are grateful beyond measure for the love and joy you bestowed on our lives. We are so proud of you and the life you lived, and know you will be with us in spirit as we endeavor to follow in your godly footsteps.
Ruth is survived by her three sisters, Donna Leblanc, Judy Patterson, and Bonnie Stainthorpe, and by her six children, Bill (Gwen) and their children, Cheryl (Daniel Shepherd), Michael (Lenka), and Lindsay; her daughter Rachael (James Prentice - deceased), and their children, Marie, Michelle, and Joel (Alexandra Gaysek); her son Warren (Marlene) and their children, Patricia (Chris Holmes), Victoria (Mark Hillock), Warren Jr., and Kira; her son Weldon (Heidi) and their children, Morgan (Peter Hill), Whitney (Elliott Lee), Madison (Daniel Brutesco), and Wilson (Laura); her daughter Ruth (Brian Stamplecoski - deceased), and their children, Jacob, and Joshua; and her daughter Rebecca (Andrew Chapman) and their children, William, Luke, Mark, Sara, and Anna; and her honorary daughter, Debbie Page. She is also survived by seventeen great-grandchildren.
Ruth is predeceased by her beloved husband, William Douglas Taylor Sr., and her siblings Arthur, Beryl Riva, Viola Campbell, Doris Poland, Thomas, and Robert.
A Celebration of Life will take place at Cedarview Alliance Church, 2784 Ceadarview Road, Nepean on Sunday, 19 February, 2023 at 2:00 p.m, Reception to follow. In lieu of flowers, Ruth's request that donations be made to CEF Ontario (Child Evangelism Fellowship of Ontario)
Celebration of Life
2:00 pm
Sunday, February 19, 2023
Cedarview Alliance Church
2784 Cedarview Road
Nepean , Ontario, Canada
Reception
3:00 pm
Sunday, February 19, 2023
Cedarview Alliance Church
2784 Cedarview Road
Nepean, Ontario, Canada


Share Your Memory of
Ruth