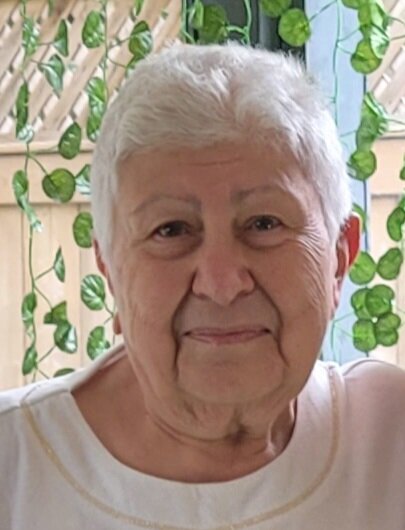 Obituary of Vartouhy Tashjian
It is with deep sorrow and much love that we mourn the passing of our beloved mother, Vartouhy Tashjian, of Nepean on May 1, 2023,. Our beautiful mother passed away at the age of 90 years, surrounded by her loved ones. She was predeceased by her husband, Nigoghos Tashjian who passed Feb 1st, 2022.

Vartouhy was born in Ghamishli Syria. She is survived by her sister, Takouhi Wanes (the late Krikor Wanes). As sisters, they grew up in close company and did everything together. Vartouhy married in 1960, and had three children; Kohar Polimenakos (Bill Polimenakos), Ashod Tashjian (Linda Tashjian), and Shelly Hillock (Paul Hillock). In May of 1970 she moved with her young family to Saskatoon, Saskatchewan, and in July, 1972 she moved with her family Ottawa. Arriving in Canada she spoke Armenian, Arabic, and Turkish, but not English. It didn't take her long however to pick up on the English language, with effort and enthusiasm she would go on to eagerly absorb every word she could, learning to speak, read, and write in English as well as some French. A determined woman, she never wanted to rely on anyone or appear to lack the skills to rebuild a life as evidenced by her learning to drive for the first time at the age of 39.
She was known as Mamoog to her grandchildren. She will be missed by Ani and Sofia Polimenakos, Liam and Mackenzie Hillock, James, Rebecca, Lori, Michael, Nicole, Natalie, Andrew, and Jennifer Tashjian. Her Great Grandson Andreas Gouvatsos was her most recent joy. She will be remembered as Auntie Rose to the many children that she provided care for over the years. Mamoog welcomed many new Armenians to Ottawa. For decades, every Armenian that came to Ottawa would be welcomed to eat at her table. She was always ready to listen with a supportive ear to all who needed her; we never left her house without a loot bag and an "I love you". A mother to all who met her, she adopted many daughters over the years and made many cherished friends. We can still hear her saying, "I'm a giver not a taker". Mom was happiest when baking and supporting those around her.
Mom survived many years of difficulty with strength, courage, creativity, and the love she had for her children. She never lacked the resources to find a way to go over or around obstacles. She was valued and honoured by those who knew her for her strength and will be remembered as a strong-willed and independent woman who could always make her many friends laugh with her sharp humour.
Mom, we wish you could have enjoyed your independence longer, socializing on your front porch with friends and family, and taking pride in living in your house of 49 years. The angels are in good company with you. They are getting the best Armenian food, plenty of advice on picking grapevine leaves, learning the secrets of couponing and wise shopping, collecting the best boxes in the store, and having the best selection of fabric and wool. Your children, grandchildren, and great grandson miss you already! Your memory and love will never be forgotten by your family, your friends, and the Armenian community.
Visitation will be held at the Pinecrest Visitation Center, 2500 Baseline Road on Monday, May 8th, 2023 from 7:00 PM to 9:00 PM. A funeral service will be held at First Unitarian Church (https://www.firstunitarianottawa.ca/welcome.html), 30 Cleary Avenue on Tuesday, May 9th , 2023 at 1:00 PM. Burial to follow at Pinecrest Cemetery. For those not attending the burial the reception will begin immediately following the church service.

In lieu of flowers, please support her favorite charity, the Armenian Relief Society (ARS) or the Crosspoint Baptist Church Ottawa.
Visitation
7:00 pm - 9:00 pm
Monday, May 8, 2023
Pinecrest Visitation Centre
2500 Baseline Road
Ottawa, Ontario, Canada
Funeral Service
1:00 pm
Tuesday, May 9, 2023
First Unitarian Congregation
30 Cleary Avenue
Ottawa, Ontario, Canada
Burial
2:45 pm
Tuesday, May 9, 2023
Pinecrest Cemetery
2500 Baseline Road
Ottawa, Ontario, Canada
613-829-3600
Reception
For those not attending the burial the reception will begin immediately following the church service.   


Share Your Memory of
Vartouhy