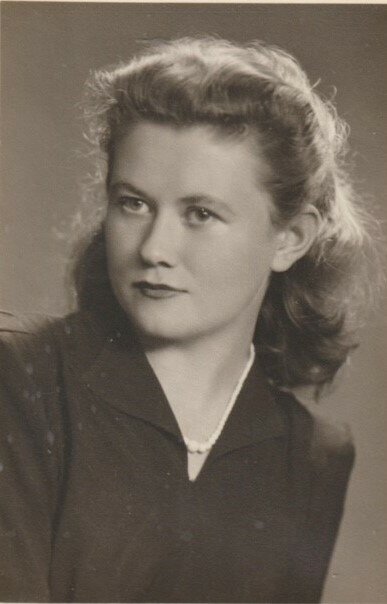 Obituary of Irena Korczynski
Irena Korczynski was born in Lwów, Poland on Aug 11, 1925. She died on April 8, 2023 at the age of 97. She was married to Władysław for 48 years. They had one daughter, Maria; two grandchildren, David, and Lidia (m. Guy Smith); and three great grandchildren Danika, Elanora, and Gabriel.
Irena had a happy childhood but lost almost everything during the Second World War. As members of the Polish "intelligentsia," they were targeted along with thousands of others. Her brother was executed and buried in Katyn Forest. The rest of the family was deported to Kazakhstan in cramped and humiliating conditions.
There, they lived on farms and communes where food was scarce and discipline draconian. Her father didn't survive. Eventually though, they were allowed to travel through the Near East to a refugee camp in Lebanon, where her mother died as well. Eventually, she and her sister were able to board a boat to London, England.
There, at a YMCA dance, Irena met her future husband, Władysław. Not long after, they married and boarded a boat for Canada. Their daughter Maria was born soon after their arrival in Montréal, where they lived for over two years before moving to Ottawa.
Irena worked and looked after her home for ten years while Maria attended school. She and her husband became integral parts of their community. The two of them were founding members of the People of Joy prayer group and active parishioners wherever they went.
She was also a passionate gardener, cook, and homemaker. In her later years, she and her husband travelled widely and often. However, she cherished family time most of all. Irena loved her grandchildren and great-grandchildren as only a grandma could.
Maria Henriksen would like to thank the Civic Hospital staff for their attempt to save Irena's life in her last days.
Remember Irena as a strong and determined woman who loved her family and kept a deep faith in Our Lady and Christ.
A Funeral Mass will be held at St. Maurice Parish, 4 Perry Street, Ottawa on Saturday, April 15, 2023 at 10:30 a.m. Reception to follow
Funeral Mass
10:30 am
Saturday, April 15, 2023
St. Maurice Parish
4 Perry Street
Ottawa, Ontario, Canada
Reception to follow
11:30 am
Saturday, April 15, 2023
St. Maurice Parish
4 Perry Street
Ottawa, Ontario, Canada


Share Your Memory of
Irena