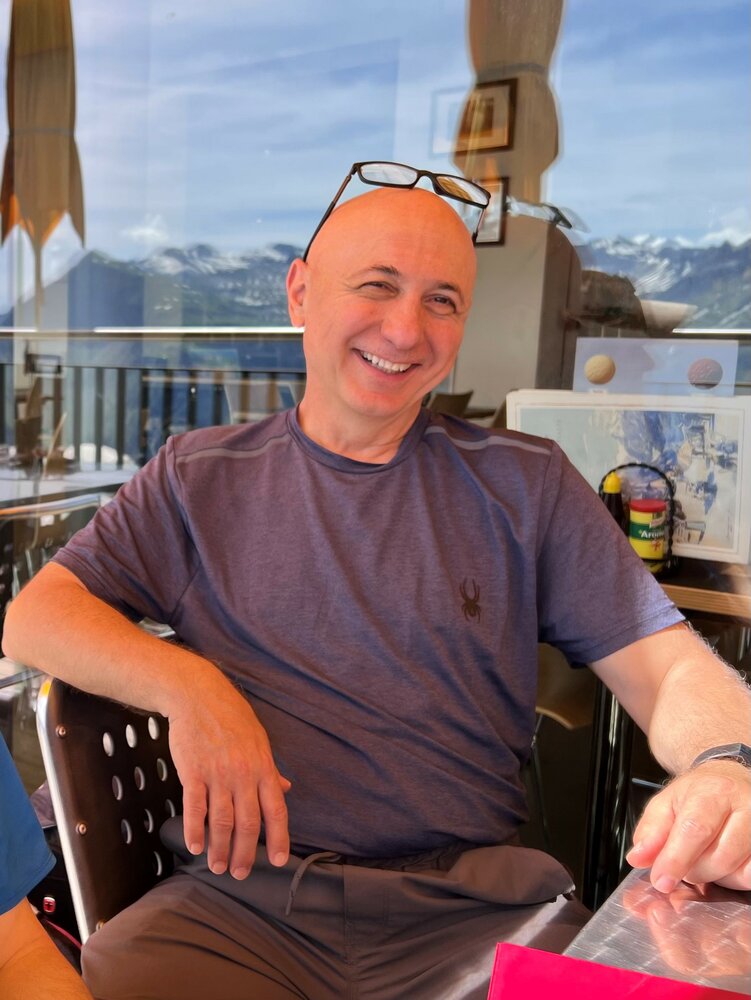 Viewing
10:00 am - 11:00 am
Sunday, January 8, 2023
Highland Park Remembrance Chapel
2037 McGee Side Road
Carp, Ontario, Canada
Visitation
11:00 am - 12:00 pm
Sunday, January 8, 2023
Highland Park Remembrance Chapel
2037 McGee Side Road
Carp, Ontario, Canada
Celebration of Life
12:00 pm - 1:00 pm
Sunday, January 8, 2023
Highland Park Remembrance Chapel
2037 McGee Side Road
Carp, Ontario, Canada


Obituary of Catalin Ovidiu Andronic
VIZUALIZAȚI MESAJUL ÎN ROMÂNEȘTE MAI JOS
It is with deep sorrow that we announce the sudden and unexpected death of Catalin Ovidiu Andronic, of Ottawa, on Friday, December 23, 2022. He was 61 years old.
Catalin is survived by his wife Mihaela, his daughter Cristina, his stepchildren Laura and Casti (Elli), his father Ioan, and his brother Tudor (Elena). He will be greatly missed by his loving grandchildren (Alex, Max, and Talia), who called him "Gru", and by his nieces and nephews (Joel, Fabio, Andrei, Lara, Elena Alessia, and Tudor Constantin). He is predeceased by his mother Rachila.
Catalin was born on September 29, 1961 in Suceava, Romania to Ioan and Rachila (Parascan) Andronic. He fled Romania in 1989 and immigrated to Canada (via Austria) in 1990, settling in Ottawa. He pursued a Master's Degree in Electrical Engineering at the University of Ottawa and went on to have a successful career with Bell Sygma, Nortel, and Innovapost, where he recently celebrated his 20-year work anniversary.
Catalin was everybody's best friend; the person you could always count on to show up. He loved traveling and exploring nature; hiking, skiing, canoe camping, and scuba diving brought him great joy. He loved to laugh, and at parties he had the best moves on the dance floor. He was lighthearted and happy, fascinated by the universe, and in awe at how lucky we are to be alive.
He was so, so loved by his family and friends. If, like Frodo, you find yourself thinking "I wish none of this had happened", Catalin would have replied with Gandalf's words, "So do all who live to see such times, but that is not for them to decide. All we have to decide is what to do with the time that is given to us."
A funeral service will be held for Catalin on Sunday, January 8, 2023 at Highland Park Cemetery & Cole Funeral Services, 2037 McGee Side Rd, Carp, ON, with a viewing from 10:00am-11:00am, a visitation from 11:00am-12:00pm, and a Celebration of Life starting at 12:00pm.
"Life, just like the stars, the planets and the galaxies, is just a temporary structure on the long road from order to disorder. But that doesn't make us insignificant, because we are the Cosmos made conscious. Life is the means by which the universe understands itself. And for me, our true significance lies in our ability to understand and explore this beautiful universe."
― Brian Cox
In lieu of flowers, a Memorial Fund has been set up to support Catalin's family in honouring his legacy and countless acts of kindness. For details please email: AndronicMemorialFund@gmail.com
To view the services online, please click HERE
----------------------------------
Cu profundă tristețe va anunțăm moartea fulgerătoare și neașteptată a lui Andronic Cătălin Ovidiu, în Ottawa, Vineri 23 decembrie, 2022, la numai 61 de ani.
Cătălin a lăsat în urmă soția, Mihaela, fiica, Cristina, copiii adoptivi Laura și Casti (și soția Elli), tatăl său, Ioan, fratele Tudor (și soția Elena). O sa le lipsească mult nepoțeilor (Alex, Max și Talia), care îi spuneau "Gru", și celorlalți nepoți si nepoate (Joel, Fabio, Andrei, Lara, Elena Alessia, și Tudor Constantin). Este predecedat de mama sa Rachila.
Cătălin s-a născut pe 29 septembrie, 1961 în Suceava, Romania, din părinții Ioan și Rachila (născută Parascan) Andronic. Cătălin a fugit din Romania in 1989 și a imigrat in Canada in 1990, stabilindu-se în Ottawa. A urmat un Master în Inginerie Electrica la Universitatea Ottawa, după care a avut o carieră plina de succese la Bell Sygma, Nortel, și Innovapost, unde recent sărbătorise aniversarea a 20 de ani.
Cătălin era pentru toți cel mai bun prieten; o persoană pe care te puteai baza întotdeauna să ajute pe oricine avea nevoie. Îi plăcea enorm să călătorească și să exploreze natura; drumețiile, schiul, campingul cu canoele, și scufundările printre recifuri îl umpleau de bucurie. Îi plăcea să râdă, iar la petreceri avea cele mai bune mișcări pe ringul de dans. Era vesel și fericit, fascinat de Univers și uimit de cât de norocoși suntem că suntem în viață.
Era atâta de iubit de familie și prieteni!
Dacă, la fel ca Frodo, gândiți "Mi-aș dori să nu se fi întâmplat nimic din toate astea", Cătălin v-ar fi răspuns cu cuvintele lui Gandalf: "La fel și -ar dori toți cei care trăiesc sa vadă astfel de vremuri, dar asta nu e decizia lor. Tot ce putem decide este ce să facem cu timpul care ne este acordat."
Serviciul funerar pentru Cătălin va fi duminică, 8 ianuarie, 2023, la Highland Park Cemetery & Cole Funeral Services, 2037 McGee Side Rd, Carp, ON, începând cu o vizionare, de la 10:00am-11:00am, vizita de la 11:00am-12:00pm, și Sărbătoarea Vieții la ora 12:00pm, ora locală [București - minus 7 ore]
"Viața, la fel ca și stelele, planetele și galaxiile, este doar o structură temporară pe drumul lung de la ordine la dezordine.Dar asta nu ne face nesemnificativi, pentru că suntem Cosmosul făcut conștient. Viața este mijlocul prin care universul se înțelege pe sine. Și pentru mine, adevărata noastră semnificație constă în capacitatea noastră de a înțelege și explora acest univers frumos."
― Brian Cox
În loc de flori, s-a înființat un Fond Memorial pentru a sprijini familia lui Cătălin în a onora memoria sa și a nenumăratelor sale acte de bunătate. Aflați detalii la email: AndronicMemorialFund@gmail.com


Share Your Memory of
Catalin