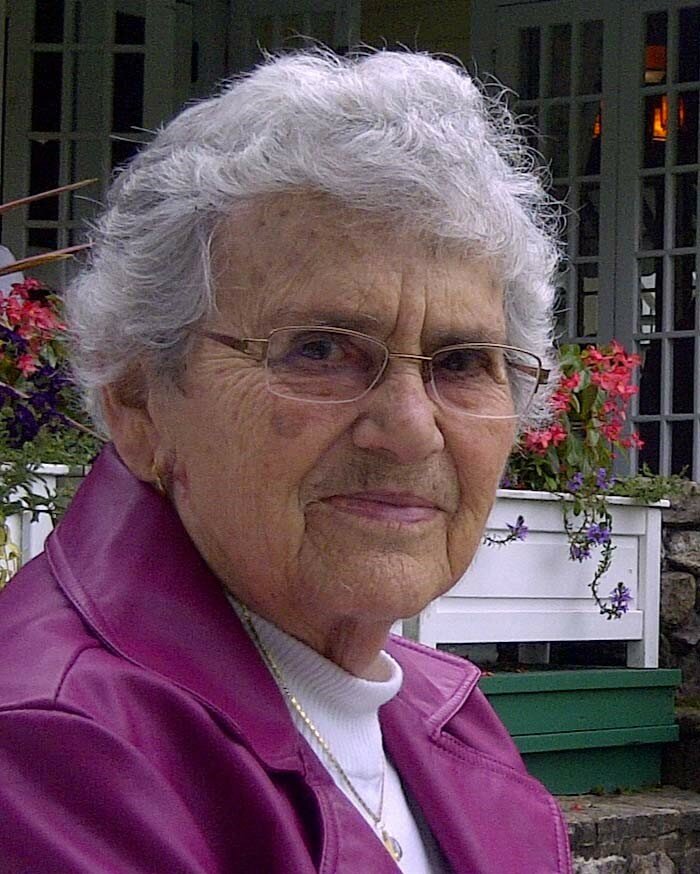 Obituary of Marjorie Speake
Marjorie Speake of Ottawa, ON., beloved wife, mother, sister, aunt and dear friend. Passed away peacefully Jan 8, 2022 at age 93 after a brief illness, her family by her side. Predeceased by her loving husband of 45 years, William George Speake (1926 - 1994). Marjorie will be missed by her children, Mary-Louise Hayward (David) of Ottawa, Kathleen Speake (David Justinich) of Ottawa, and William Speake of Hamilton, ON.
Marjorie was born in London, ON August 17, 1928 to Gordon Guymer and Evelyn Louise Guymer (Webber). Loving sister to Louise Beattie of Bothwell ON (deceased) and Karen Burt of London ON. Fondly remembered by an extended family of cherished nieces, nephews and their children. Always in our hearts, Marjorie will be remembered for her kindness and generosity, her love of camping, sewing, baseball and her devotion to her family.
Marjorie was a fighter. She grew up during the depression in a loving family and learned how to adapt to anything that came along. Her early loves were baking with her grandmother, attending baseball games and church services with her father, and taking her younger sister to Saturday matinees.
Despite the loss of her husband at the start of their retirement years, she continued to travel the world, including to China and Portugal. She wintered in her trailer in Florida and spent summers at her campsite on White Lake, ON. Wherever she went, she made friends. Twice a year for more than 15 years, she would drive solo with her dog from Ottawa to Southern Ontario to visit her son, sisters, cousins, nieces and nephews. And to maybe see a Blue Jays game or visit Niagara vineyards with her son.
A master at crocheting and tatting, Marjorie leaves behind a lifetime collection of beautifully handmade pieces, including delicate tablecloths and cozy afghans.
While raising a family of three kids, a dog and other assorted animals, she retrained as a library technician and had a long and successful full-time career at Nepean High School Library on Broadview Avenue in Ottawa helping decades of high school students.
It is said we can measure a life by the hole that is left behind and by the way one touches other lives. She was generous and caring, supporting numerous charities and empathising with the troubles of those less fortunate, including opening her heart and home to abandoned pets.
The family would like to acknowledge the kind and professional staff at the Waterford Retirement Community on Bank Street in Ottawa, where she happily lived her final years, as well as the medical staff at the Ottawa General Hospital for their exceptional care and compassion. And to her special friends and fellow residents, she will be missed at the dinner table, as well as in the atrium where she would gather with friends to share stories.
We miss you Mom! A Private Celebration of Marjorie's life will be held at the Pinecrest Remembrance Chapel on Saturday, January 29, 2022 at 1 p.m. Those wishing to attend virtually can do so by using this link at service time Funeral Service Link. The livestream link will be active at 12:45pm as there will be a memorial tribute video playing before the service. If you would like to be contacted with this information, please indicate in the Tribute section.
Following the service on Saturday, January 29 the family will be having a Reception by a Zoom Meeting at 3:00 p.m, Eastern Time (US and Canada). Click here to john the Zoom Meeting. Meeting ID: 882 8683 3235, Passcode: 349143.
Donations can be made to those charities dearest to Marjorie, Lions Foundation of Canada Guide Dogs or The Ottawa Mission.
"In Life, In Death, O Lord, Abide with Me"


Share Your Memory of
Marjorie
Highland Park Cemetery
2037 Mcgee Side Road,
Carp, Ontario K0A 1L0
Telephone: (613) 831-4600
​info@highlandpark.ca