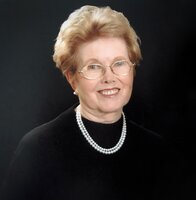 Joan Gifford
JOAN GIFFORD (née GILLAN)
Joan Annetta Gifford, Stittsville, passed away peacefully on Easter Sunday, April 17, 2022, in her 93rd year.
Born in Pakenham, Ontario on June 10, 1929 to the late Charles and Marguerite (née Wilson); a sister to Charles (Charlie) Gillan.
Joan studied at MacDonald College/McGill University and at the University of Toronto where in 1952, she graduated in Dental Nursing. Ever full of fun and with a skip in her step, it is no surprise that she was the Social Representative for the Faculty of Dentistry at U of T.
After graduation, Joan moved to Ottawa where she met her future husband of 60 years,
Dr. Don Gifford who preceded her in death. Together, they built a life, raised a family and left a legacy of which they were so very proud.
We, her children celebrate her life and constant love: Brian Gifford (Jenny Paterson),
Heather (Shaun) Seaman, Janice (Mark) Morden, Shelley (Grant) Johnson, and Jeffrey (Lisa) Gifford.
Joni was a loving friend, confidante and mentor to her adoring grandchildren: Erica (Trevor), Robbie (Shauna), Eben, Logan (Evie), Hannah, John, Spencer, Kathleen, Rachel, Caroline, Bryce, Danielle, Ethan, Aidan. She was delighted with the arrival of her two great-grandsons Elliot and Oscar.
Joan will also be remembered by her sister-in-law Beth Gillan, her nieces, her nephew, cousins and friends. Special thanks to Joan's wonderful friends and the caring staff at Hazeldean Gardens, Stittsville. For those wishing to make a memorial tribute, a donation to the Canadian Wildlife Federation in Joan's name would be greatly appreciated. www.cwf-fcf.org
A Celebration of Joan's Life will be held at 10 a.m. Monday, June 20th at Stittsville United Church, 6255 Fernbank Rd, Stittsville, ON. A private interment will take place following the service. https://www.stittsvilleunitedchurch.com