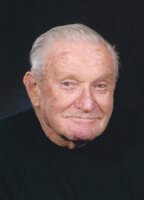 R. John Booth
Robert John Booth
August 13th, 1930 – April 22nd, 2021
John Booth passed away peacefully at Stillwater Creek Retirement Residence, Ottawa on April 22nd, 2021 at 90 years of age. Born in Ottawa to Robert James and Doris Marion (Caruthers), John lived the majority of his life in Ottawa. He was predeceased by his beloved wife of 59 years, Rosalyn ("Rose") (nee Putinski). Much loved father to Richard (Helen), Lynn (Cindy Shipley) and Ken (Margaret Napier). Fun loving grandfather to Matthew (Jessica), Kathleen, Ryan, Amy, Ian, Colleen and Michael. Very proud great grandfather to Addison and Ben.
John graduated from Glebe Collegiate Ottawa, and after a brief stint installing telephone poles and stringing lines with Bell Telephone in northern Ontario, he entered public service as an Air Traffic controller with Transport Canada beginning in Goose Bay, Labrador. It was as an Air Traffic controller that the true measure of this man was seen – cool and calm, holding to exacting standards, and a diligent trainer of the next generation. It was noted at his retirement, after 35 years of service, that he was the first controller to serve his whole career as an active tower controller and supervisor.
John's retirement gave him time to fully enjoy his pastimes and spend time with Rose. They travelled extensively internationally and in the last few years before Rose's passing, vacationed each winter in Barbados. John enjoyed his outdoor activities Including spending time poolside, swimming and sipping gin & tonics. His true passions though were tromping through the bush with hunting buddies, snowmobiling and cookouts on his 100 acre property near Clayton, Ontario. It was on the property that he and Rose started tapping the maple trees, boiling the sap and making a fine maple syrup for family and friends in the spring. John had two teams, the Habs and Cowboys and followed them for years even when they didn't provide much joy over the last number of years. Over the years John became an avid art collector and supported Canadian painters. He proudly displayed his collection in his home for all to enjoy.
John's grandchildren and great grandchildren will fondly remember their "Bah ha" for his teasing, making funny faces, bad magic tricks and teaching them naughty things, much to their parents' chagrin . "Cool baby cool"
The family would like to express our sincere thanks to the staff at Stillwater Creek for the kindness and dedicated care provided to John. A private family service of inurnment will take place at a future date where John will once again take his place beside Rose.
If you so wish, memorial donations may be made to the Canadian Cancer Society.