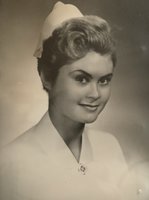 Carol Anne Davis (McCulloch)
Age 83, passed away peacefully with son Spencer at her side on March 8, 2021. Born in Edmonton, Carol was the daughter of the late Warren and Margaret McCulloch. She was predeceased by her husband of 51 years, Basil Anthony 'Tony' of Basseterre St. Kitts, and her brother Robert. She is survived by her children, Benjamin Richard (Alexandra Weld) of Halifax; Spencer John and his former wife Fatima Abbasi, of Ottawa; and Kathy and her former husband Eric Michelman, of Pennsylvania, as well as her six grandchildren: Noah, Charlotte and Elliot Davis of Halifax; Elias Davis of Ottawa; and Jacob and Sierra Michelman of Pennsylvania. Surviving siblings are Jim (Donna Fay), John (Anita), and Janet (the late Colin Bass).
Carol grew up in Ottawa, attending Nepean High, and went on to study nursing at the Royal Victoria Hospital in Montreal. She met Tony in Toronto and together they raised a family in Rosemère, Quebec. Tony and Carol moved to Easton, Pennsylvania in 1985, where they remained for 35 years. Carol returned to Ottawa during the summer of 2020.
Those who knew Carol will miss her laugh, her honesty, and her ability to listen. She was a kind and caring woman. Arrangements are under the care of Cole Funeral Services. Interment and a celebration of her life will take place at a later date.