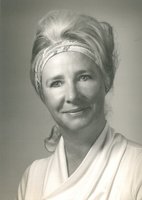 Carol Alexandra "Sandra" Faulkner
Carol Alexandra "Sandra" Faulkner was born in Renfrew and passed March 9, 2021 in Ottawa. Sandra was predeceased by her partner of 50 years, Réal "Ray" Langlois, and his son Aurel. Sandra was the daughter of the late John Russell "JR" and Mary Catherine (Scott) Steele. She was also predeceased by her brother, J. Douglas Steele, his wife Betty and their sons, Jeff and Mark.
Sandra is survived by her children from her marriage to the late Bert Faulkner: Karen Faulkner, John Faulkner (Joan), Lee Faulkner and Judy Faulkner; her nephew John Steele; her ten grandchildren: Laura Baker, Anne Baker, Stephen Faulkner, Tom Wolff, Michael Faulkner, Alexandra Wolff, Philip Faulkner, Jane Wolff, Ryan Faulkner and Erin Faulkner; her former son-in-law Andy Wolff; her four great grandchildren: Skye Baker, Skyla Baker, Nola Healy and Nessa Healy; her stepson Guy Langlois (Cheryl), stepdaughter Heather (Walt); her step-grandsons Brian Langlois, David Langlois, Sean Hemeon, Barry Langlois and Daryl Langlois; and, her former sister-in-law Joan Harrison and her children: Kevin, Mary, Robert, Ann and Molly.
Early Life: Sandra grew up in Renfrew, Ontario, the heart of the Ottawa Valley. She attended Renfrew Collegiate Institute (RCI). Following secondary school, Sandra studied business at Albert College in Belleville, Ontario, graduating in 1953. It was at Albert College where she met her husband, Bert Faulkner. In a short time, four children followed and Sandra's focus was on raising her young family. It was in Belleville that Sandra met Rose Lesnik, a beloved friend who became part of the family.
Balancing Life: In 1967, wanting to be closer to her Renfrew roots, the family moved to Ottawa. Sandra started as a bank teller at United Trust (later Royal Trust). The manager of the real estate arm of the company recommended Sandra try real estate, recognizing that she already possessed many of the necessary skills to succeed - smarts, a wonderful personality, boundless energy and infectious enthusiasm. Sandra had a warm smile for everyone, always looked on the bright side and never had an unkind word for anyone. She was dedicated to serving the needs of her clients while building lifelong relationships. Sandra was among the top residential Realtors in Ottawa for many years, earning numerous awards, including Royal Lepage's Lifetime Award of Excellence. Raising a family and work in real estate was far from easy. Sandra worked tirelessly to succeed at both, and supported her children in their personal and professional lives.
A Life of Inspiring Work: Sandra loved being a Realtor. Inspired by Sandra's passion and example, Faulkner Real Estate was founded in 2000 and was the proud recipient of the Ottawa Chamber of Commerce's New Business of the Year Award. Daughter Judy and granddaughter Alexandra have earned the necessary broker licenses to ensure that the family legacy continues. Sandra always believed it was vital to remain active, productive and happy. Family, friends, and her work brought her immense joy. Sandra had no plans to retire, but in 2013, at the age of 80 when dementia became apparent, she was forced to step down.
A Life Well Lived: Apart from raising a family and her career in real estate, Sandra made the most out of life. Sandra and Ray enjoyed hosting family and friends at their home in Ottawa (Kitimat), and at their cottage on Mississippi Lake, aptly named "SanRay." Sandra loved to travel - especially wintering annually in Florida with Ray and accompanying family on cruises. She had many dear friends and treasured them all. They know how much they were loved. Sandra and Ray always looked forward to getting together with their potluck group of friends. Sandra enjoyed her regular visits to Renfrew to catch up with family and friends, and attend high school reunions. She loved to shop, especially for shoes which she put to good use dancing. She took great pride in creating beautiful flower arrangements and enjoyed giving them away. She relished outings at the Ottawa Little Theatre and the National Arts Centre. Sandra's father, JR, was an avid and accomplished golfer - it's no wonder she enjoyed golfing so much. She loved joining family for twilight golf at the Ottawa Hunt Club, and especially looked forward to ringing the bell which coincidentally bore her father's initials (JRS).
Life with Dementia: Mom came under the care of Dr. Andrew Frank, a cognitive and behavioral neurologist, and medical director of the Bruyere Memory Program at the Elisabeth Bruyere Hospital in Ottawa. Dr. Frank's guidance and support as Sandra's dementia progressed has been greatly appreciated. It was not easy for Sandra to give up driving, but as her dementia progressed it became necessary. With the exception of a couple of accidental falls resulting in fractures requiring hospitalization, surgery and rehabilitation, Sandra continued to live at home. It was only possible with a team of loving caregivers. Despite declining health, Sandra remained very good-natured and often expressed her gratitude by saying "thank you", kissing hands, and giving a nod, a wink, and a smile. Despite dementia, Sandra was determined to make the best of it and live life to the fullest. She did just that for as long as she lived. An acute infection led her to spend her final days in the Queensway Carleton Hospital's Acute Care of the Elderly (ACE) Unit. Sandra rested comfortably in a spacious, sun-filled room with family constantly by her side. The family is grateful to the ACE Unit staff for the excellent care they provided.
In Memoriam Donations: In lieu of flowers, the family will be grateful for your support of the
Queensway Carleton Hospital, The Dementia Society of Ottawa and Renfrew County, and/or the Elisabeth Bruyère Hospital's Memory Program.